We had a great time on our two week trip to the United Kingdom. Lots of castles, lots of beautiful English countryside with rolling hills and charming towns. Lots of reformation sites and hymn writers and a few churches. Lots of driving on the wrong side of the road while shifting with the wrong hand. And lots of rest and relaxation on a fun family vacation. The details are below.
Travel Day – Tuesday, Sept. 8
British Airways BA0190 9 hours 15 minutes
Booking reference: 2456MQ
Depart Austin: 18:10 8 Sep AUS
---
Day 1 – Wednesday, Sept. 9
Arrive London Heathrow Airport: 09:25 9 Sep LHR
Drove to Windsor Castle but too tired after little sleep on flight to actually view castle.
Drive to the Cotswolds 1:15
Drove to Northleach for an early Dinner
The Wheatsheaf Inn was not yet open for dinner, so we went to just down the road to The Inn At Fossebridge in Cheltenham
We bought some groceries in Northleach then drove back to Sherborne for an early bedtime.
­
---
Day 2 – Thursday, Sept. 10
Highclere Castle, otherwise known as Downton Abbey
Next stop: Wales
Chepstow Castle: Built by William the Conqueror
Caerwent Roman Town
Dinner: Riverside Wine Bar in Chepstow
---
Day 3 – Friday, Sept. 11: Driving Around the Cotswolds
First Stop: Bourton-on-the-Water – A Very Lovely Place
The Model Village
 A late lunch along the river followed by the famous Cotswolds Cream Tea, served with scones, preserves, and clotted cream.
A trip to the Motor Museum
Next Stop: Daylesford, a great organic farm, store, and spa
Then we had a very nice time just driving around the Cotswolds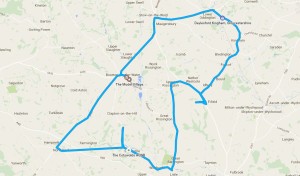 We finished the day with dinner at our flat in the Sherbourne House with purchases from Daylesford.
---
Day 4 – Saturday, Sept. 12
Oxford: The Kilns – The home of C.S. Lewis
 We had lunch in Woodstock then headed to Blenheim Palace
 More driving through the Cotswolds; it is a beautiful place
Caught the tail end of the Steam Show in Northleach
 Dinner at the flat again; too exhausted to eat out.
---
Day 5 – Sunday, Sept. 13
Today was our first travel day since arriving. To make the timing work, we found a church, the Barnoldswick Gospel Mission, that met in the evening. So we had breakfast one last time in our flat in the Cotswolds, and headed north. First stop:  Warwick Castle.
From there, we headed to Burnleigh to visit Townley Hall, built around the beginning of the 14th century. My grandmother was a Townley, and our branch of the family–the Towneleys of Stonedge, split off from the Towneleys of Towneley Hall just before it was it was built to live nearby. We couldn't find anyone who knew where the Stonedge residence was, but we did find a Stonedge Road so were close to our ancient family home. Meanwhile, we enjoyed visiting the home of our cousins at Townley Hall.
After a long day, we finally arrived at the 
Barnoldswick Gospel Mission
 to worship on Sunday evening. After church, we drove about 20 minutes to the Kirkfield Bed and Breakfast in Grassington. A beautiful area, here is the view from our bedroom:
We headed back into town for a nice dinner in a pub to finish the day.
---
Day 6 – Monday, Sept. 14
This was another travel day. It was one of two times on the trip we traveled on back to back days, and the only one where we had to drive quite a distance on the second day. Our first stop was the Ingleborough Show Cave. It was a beautiful drive from Grassington through a hilly, mostly forested area. We arrived and discovered that you can't drive all the way to a cave. The last 30 minutes are a walk up a hill through the forest alongside a stream. Though we had a lot of ground to cover that day, we decided to make the walk, and are glad we did.
We came down out of the hills, then made our way over to the Lake District on the West Coast of England. Again, it was beautiful, with lots of hilly, narrow roads and lakes just about everywhere. The town and lake of Windermere were beautiful, as was this lake,  Ullswater.
Carlisle Castle
 was our next sight to see. Strategically located jsut a few miles south of the Scottish border, it is the most besieged castle in England.
 Finally, we finished the day by driving to Edinburgh.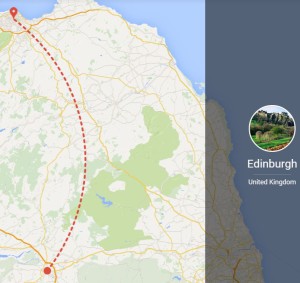 The Royal Mile is a is a series of streets that run directly through the heart of Old Town Edinburgh. Our flat (through Airbnb) was right off the Royal Mile on Advocates Close. A close is what passed for a street in Edinburgh a few hundred years ago. We'd think of them as alleys today. The next close over, Mary King's Close, was built over by some government buildings back in the 1800s, and is pretty well preserved today. It is open for tours and provides an eye-opening look at the close quarters and unsanitary conditions people used to live in in Edinburgh. We unpacked the car, got settled in and got some sleep.
---
Day 7 – Tuesday, Sept. 15 Edinburgh
We started our day looking for breakfast and found a great place nearby, the Filling Station, featuring … American food! So we had a combination of eggs, sausage, pancakes, and omelettes. The sausage, I must say, was very Scottish, so I enjoyed that taste of local flavor.
Then we walked down the Royal Mile to Edinburgh Castle, just another of the many magnificent castles we experienced.
Here is the view from its walls:
We decided it was finally time to visit our first beach. We didn't use the car while in Edinburgh, so we hopped onto a double decker bus for the ride.
 We had lunch at the Ocean Terminal, a waterfront mall. We ate at Costa's, the U.K. version of Starbucks–though they had plenty of Starbucks in the U.K. as well. They have great sandwiches and the their chai tea latte is excellent–better than Starbucks. We then went out of the deck to view the Royal Yacht Britannia, then after another bus ride, finally arrived at the King's Road beach. Another long bus ride brought us to Royal Palace of Hollyroodhouse. We were too late to get in, so just looked around the outside and visited the gift shop. A long walk home left us ready to stay in for the night. So after visiting St. Giles Cathedral (right across the street from our flat) where John Knox once preached,
I picked up pizza and fajitas from our favorite American food restaurant and we called it a night.
---
Day 8 – Wednesday, Sept. 16 Edinburgh
We had planned on getting in the car and going to see