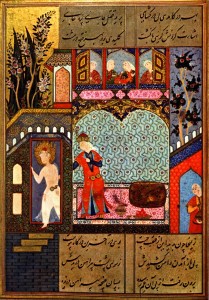 Joseph–pictured on the right–was not perfect, but he was unjustly sent to prison after being falsely accused by Potiphar's wife.
Like Joseph, we may be unjustly persecuted. Like Joseph, we will have our burdens to bear while waiting for the fulfillment of the promises of God. But most of all, like Joseph, we must learn how to deal with our own fallen nature and that of the world around us.
Scripture tells us that to do this we must meditate on the Word of God day and night. For as we meditate on the Word of God our minds will be renewed and move us to repentance of our sins and Christ-likeness in our relationships with God and with those around us.
Below you'll find some Bible studies to assist you in staying in the Word of God on a daily basis.
This study is on love, the subject of the two great commandments, and the means of our salvation. It is all we are called to do. If we love God and those around us through Jesus Christ, we will be with God for eternity. My hope is that this study will help those who use it to "love loyally" with "hesed," the steadfast love of God, as we are called to do in Micah 6:8. Here is the link to the study: Feasting on Christ: A Bible Study on Love
---