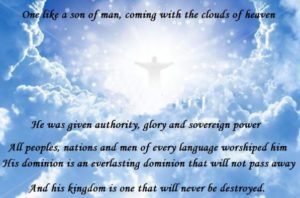 May 25 was Ascension Day, where we remember on the church calendar the ascension of Jesus recorded in Acts 1:6-11:
So when they had come together, they asked him, "Lord, will you at this time restore the kingdom to Israel?" He said to them, "It is not for you to know times or seasons that the Father has fixed by his own authority. But you will receive power when the Holy Spirit has come upon you, and you will be my witnesses in Jerusalem and in all Judea and Samaria, and to the end of the earth." And when he had said these things, as they were looking on, he was lifted up, and a cloud took him out of their sight. (ESV)
This is what it looked like from earth, with little explanation offered to the apostles by the angels, "Men of Galilee, why do you stand looking into heaven? This Jesus, who was taken up from you into heaven, will come in the same way as you saw him go into heaven."
However, back in Daniel 7, we get to see what this looked like from heaven, and get a much fuller explanation of why Jesus was ascending. First, the scene is set by Daniel with God the Father seated on His throne in heaven:
"As I looked, thrones were placed, and the Ancient of Days took his seat; his clothing was white as snow, and the hair of his head like pure wool; his throne was fiery flames; its wheels were burning fire.
Next, Daniel describes the arrival of Jesus after His ascension from the apostles about which we just read:
"I saw in the night visions, and behold, with the clouds of heaven there came one like a son of man, and he came to the Ancient of Days and was presented before him."
What was the purpose of Christ's ascension? Daniel tells us:
And to him was given dominion and glory and a kingdom, that all peoples, nations, and languages should serve him; his dominion is an everlasting dominion, which shall not pass away, and his kingdom one that shall not be destroyed.
Jesus, because of His work, was glorified and crowned as our King and given dominion over all things, as confirmed by Peter: "Jesus Christ, who has gone into heaven and is at the right hand of God, with angels, authorities, and powers having been subjected to him," (1 Peter 3:22) and also confirmed by "loud voices in heaven," as reported by John: "The kingdom of the world has become the kingdom of our Lord and of His Christ; and He will reign forever and ever." (Rev. 11:15)
Jesus is in heaven today reigning over all of creation, and everyone is and will continue to be subject to Him: "Therefore God has highly exalted him and bestowed on him the name that is above every name, so that at the name of Jesus every knee should bow, in heaven and on earth and under the earth, and every tongue confess that Jesus Christ is Lord, to the glory of God the Father." (Phil 2:9-11).
So thanks be to God for the ascension of Jesus Christ. When things are not going our way, when we hurt, when we are in pain, as well as when we seem to be on top of the world, we can trust that we and all events around us are in the hands and under the dominion of Jesus our Lord and King.